Founding Board Member Passes Away
We mourn the loss of Louis Godwin who passed on Memorial Day.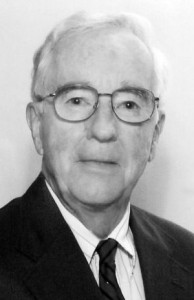 GREENSBORO Louis Purvis Godwin, 87, died peacefully on May 30, 2016. Louis was born September 25, 1928 in Asheville, NC. He was the son of Grover Cleveland Godwin and Anna Purvis Godwin.Louis graduated from Randolph Macon Academy in Front Royal, VA and graduated in 1951 from UNC- Chapel Hill where he was a member of Pi Kappa Alpha fraternity.
Following graduation, he served his country as a US Marine Corps Officer during the Korean War.Louis launched his insurance career as a claims adjuster for Nationwide Insurance in New Bern, NC. There he met and married Jane Hawk in 1955. In 1959, they moved to Greensboro where he helped his brother, Grover, establish Godwin Insurance Agency. He held the professional designation of CPCU, and was an underwriting member of Lloyd's of London. He was well-respected in the industry, and enjoyed a successful career until his retirement in 1990.Louis enjoyed giving back to the community, and was a member of Greensboro Lions Club, Greensboro Jaycees, Gate City Kiwanis Club, and Meals on Wheels. He was a long time member of St. Francis Episcopal Church. In 2009, he joined First Presbyterian Church where he was involved in the Young Men's Bible Class. Louis was also a member of the Greensboro Country Club, Greensboro Investment Club and the 100 Club. In keeping with his strong patriotic spirit, he spearheaded a committee to erect a monument in 1991 to honor Greensboro resident Edwin V. Bain, who flew in the famous Doolittle raid on Tokyo in World War II.
In 2002, he was co-chair of the committee that erected the Guilford County Veterans Memorial located at Guilford Country Park. In God's perfect timing, Louis appropriately passed away on Memorial Day, a day that he truly respected and appreciated.He was an avid Tar Heel fan. He enjoyed playing golf, card games (except when he lost) and walking. He was often seen walking with his golf club and told people he carried it so he could "fight off women and dogs, in that order". He also had a real fondness for music and dancing. Louis loved people, had many friends throughout his life, and held an extraordinarily deep affection for his family.
He will always be remembered for his great wit and sense of humor, kind heart and considerable generosity.Louis was preceded in death by his wife of 47 years, Jane Hawk Godwin, his son, Louis Purvis Godwin Jr. and his brother Grover Cleveland Godwin, Jr. He is survived by " his girls", Kay Clifford (John) of Matthews, NC, Anna Brannon (Kimbrough) of Greensboro, NC, and Laura Mount (Ryan) of Greensboro, NC.; Five grandchildren, Carrie Clifford, Andrew Clifford (Makenzie), Louis Brannon, Ethan Mount and Mason Mount; and niece, Beth Godwin Bramhall (James)The family would like to thank the loving and caring staff of Verra Springs at Abbotswood, Hospice and Palliative Care of Greensboro, and Options for Seniors.A celebration of his life will be held on Saturday, June 4, 2016 at 2:00 pm in the sanctuary of First Presbyterian Church in Greensboro, NC. The family will receive friends following the service.In lieu of flowers, memorial contributions may be made to: Boys and Girls Home of North Carolina, 400 Flemington Drive, P.O. Box 127, Lake Waccamaw, NC 28450; or Alzheimer's Association National Office, 225 N. Michigan Ave, Fl. 17, Chicago, IL 60601.Hanes-Lineberry N. Elm St. Chapel has the honor of assisting the Godwin family.Online condolences may be made atwww.haneslineberryfuneralhomes.com.